Whats Happening!
Oct 25, 2013
Colver Halloween Parade starts at 12:30 tomorrow afternoon! Trick or Treating follows immediately, until 4pm! Line up for the parade usually starts 15 to 30 minutes a head of time at the Colver Prepbyterian Church parking lot.
June 29, 2013 2:36 pm.
Last night at 7pm DJ Partners in Sound started off the entertainment for the evening.
Saturday, the community wide yard sale began at 8am and runs through 3pm. 48 families have signed on to participate!
There is a corn hole tournament starting at noon at the firehall.
Until 7pm the Holy Family Catholic Church is selling basket raffle tickets in the church basement. Tickets will be sold again Sunday morning, and the winning ticket will be drawn at 4pm Sunday.
Ghost Town Revelry begins playing at 8pm Saturday.
These is a kid's corner including an inflatable tent and a petting zoo.
Bingo, vendors, and crafts are available on Saturday. Make sure to stop by the firehall and buy a chance to win the Ladies Auxillaries prize kit. This year they've assembled a kit to resemble the coal car that accompanies the Colver Welcome sign. The prize includes $100 worth of lottery tickets, $450 worth of gift cards to local businesses, and $1600 worth of donated items. Tickets are $3. The tickets are keyed off of Saturday's Daily Number
Sunday at noon the parade begins, starting from the Colver Presbyterian Church parking lot, continueing through to the fire hall. The parade will include fire fighters, boy scouts, and classic cars.
There is a car show starting at 1pm on Sunday.
DJ Seth is providing the entertainment for Sunday.
Please consider joining in the festivities!
More information can be obtained through the fire department.
Cambria Twp Volunteer Fire Co
31 Reese Ave, Colver, PA 15927
(814) 748-7560
Thanks!
Chris
---
June 25, 2013 3:56 pm.
The success of the 2011 Centennial has led to a revival of the Colver Reunion tradition. This coming weekend, June 28, 29 & 30, the Cambria Township Fire Department is sponsoring the 2013 Colver Reunion.
Please consider joining in the festivities!
More information can be obtained through the fire department.
Cambria Twp Volunteer Fire Co
31 Reese Ave, Colver, PA 15927
(814) 748-7560
Thanks!
Chris
---
February 2, 2012 3:33 pm.
Happy Groundhog's Day!
The groundhog says six more weeks of winter, but at this point if he is right, those are the only 6 weeks of winter we're going to see this year!
Very few Centennial items remain.
All DVDs are sold. Most of, perhaps all at this writing, of the Christmas ornaments have been sold. All the coffee mugs are sold, but we still have some beer mugs. We also have booklets available.
Thanks!
Chris
August 14, 2011 6:27 pm.
The winner of the quilt was Clara Evanchick.
The winner of the Birdhouse Post was Peggy Sauger.
The winner of the money wreath chanced off by the Orthodox Church was Joanne Gaston.
The winner of the TV chanced off by the Power Plant was Patty Urgolites.
We still have a few Colver Centennial items left for anyone interested.
We still have a few ornaments for sale($15 each) (I understand that the 2nd year ornament was re-ordered and about a dozen of each are available)

Coffee Mugs ($8),

DVD's($10)

Beer mugs with coolies($8)
Centennial Booklets($10each)
a few t-shirts left(small, medium, each priced at $13 each, and 2XL at $15 each)

The Colver Centennial Booklets are available from colverbook@gmail.com.
Everything else can be purchased by contacting Joanne Gaston @ 814-748-7597 or
emailing me (Chris) through this site
.
July 3, 2011 11:28 pm. We were blessed with an excellent weekend. The firework display was amazing. Thanks to everyone who participated, I hope you all had as much fun as I did.
July 1, 2011. Let the festivities begin! Some of the unique momentos of Colver that will be available include the first ever
Colver, PA Historical DVD
, as well as commemorative
Coffee Mugs and T-Shirts
and
chances on the Colver Centennial Quilt
.
For those not able to be here in person,
My NC Cam
has graciously provided a
live feed of the Centennial
.
In case you are worried about missing the entrance to Colver, PA, here's a picture of our sign.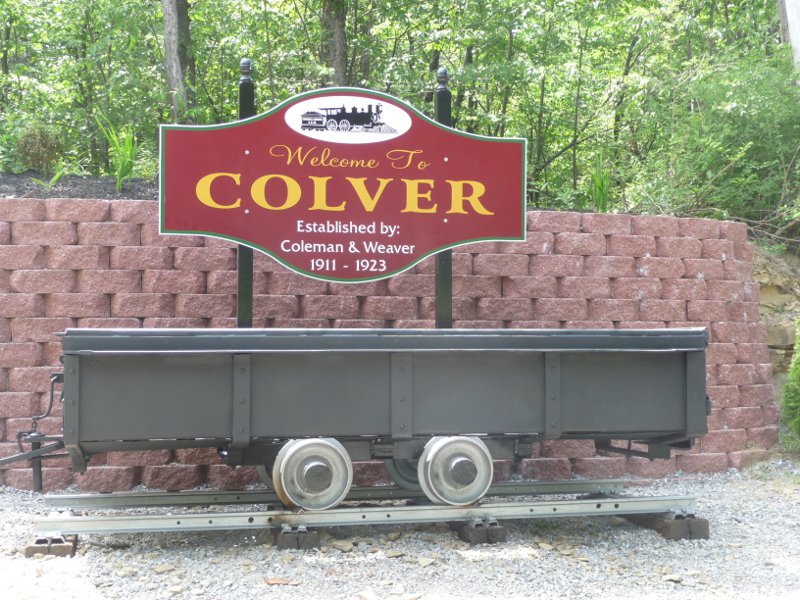 June 26, 2011. A few days ago I updated the
schedule of events
, and sent out an email to everyone who has registered there to that effect. Since then I've corrected a couple minor typoes, so you might want to double check in case there was something you wanted to make sure you were there for. I'm not aware of anything that was listed later, I accidentally listed a few start times earlier though. Less than a week away, YAHOO! -- Chris
June 16, 2011. I've made a correction to the Presbyterian Church's schedule in the
schedule of events
. The pancake breakfast is ONLY SATURDAY. My apologies for any confusion. -- Chris
June 1, 2011, Only a month away! I've updated the
schedule of events
with the latest information.
January 25, 2011,
forums
are up and running. Stop by to chat.
On November 11, I added a
contact
link in case you need to send me a note or ask a question.
I also added a
sign up
page. If you sign up, I'll let you know when we open our forums, and send you an occasional (once a month, when I have the opportunity) email letting you know how plans for the Centennial are progressing.
On July 1st, 2nd, and 3rd of 2011 we are celebrating the
Colver Centennial
. Please make plans to attend!